Listn in as Dave shares his story on the Out of the Trenches Podcast: Listen here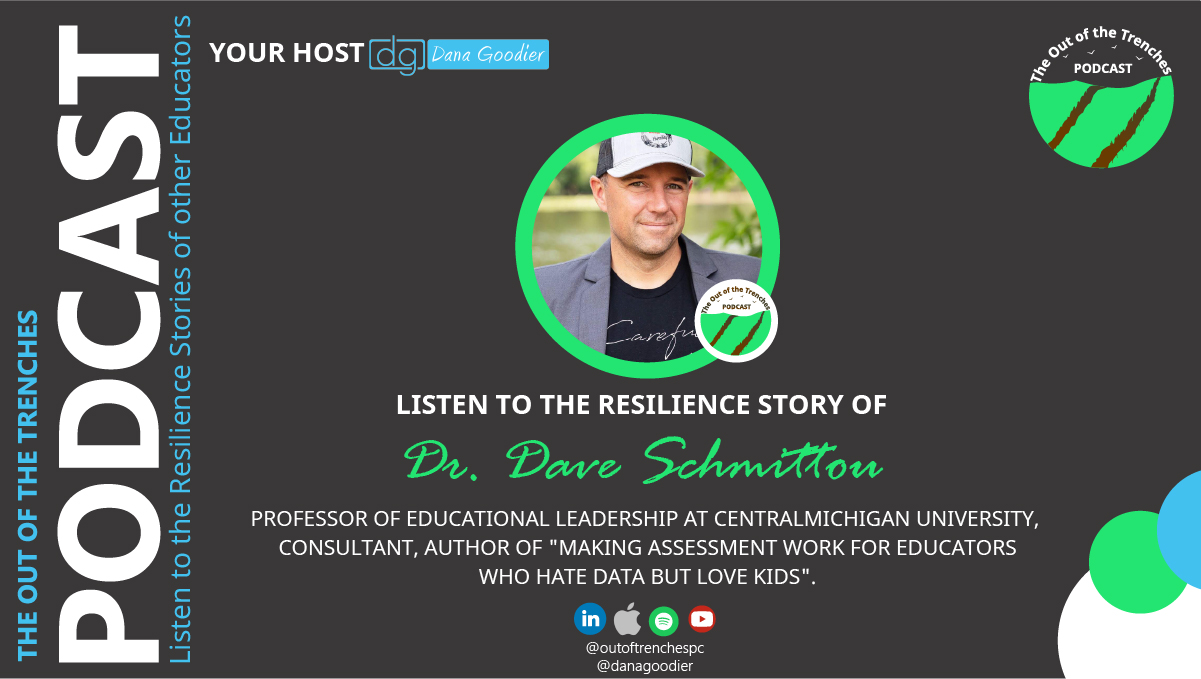 Listen as Dave joins Hunter Flesch on the Ed Essentials Podcast: Listen Here
Listen in as Dave joins The Relationship Centered Learning Podcast: Listen here
Listen as Dave joins the Guiding Principals Podcast: Listen here
Listen as Dave joins the Punk Rock Classrooms Podcast: Listen here
Listen as Dave joins the WeVideo Podcast and shares what he really believes about education:
Listen here
Check out Dave on the Aspire Leadership Podcast describing how frequent failure can lead to success:
Listen here
Check out Dave as a guest on The Positively Dad Podcast explaining how to manage being a working parent while having kids at home during the Covid-19 Pandemic:
Listen here
Check out Dave on The Teacher's Aid Podcast here
Bucket List item checked off here. The Teach Better Talk podcast is AMAZING!
125: Chief Cheerleader of Teaching – Dave Schmittou chats with us about getting out of the way so teachers can try something big, being authentic for the right reasons, and why he calls himself the chief cheerleader of teaching.
Michael Matera is an amazing host of the Well PlayED podcast. Such an honor to be on:
The Leader in Learning podcast, hosted by Dan Kreiness, brought Dave on to speak about humility and how it helps a leader. Listen to the full interview here: Leader of Learning episode 53
Positively Dad, a podcast hosted by James Shaw, invited Dave to be a guest on the show in September 2019. Check out the full interview here: Positively Dad
#ShareMOEdu has had Dave on as a guest a couple of times. Check out the interviews here: Podcast episode 67
Check out Dave on the #ShareMOedu Podcast: Podcast episode 3
Dave was on the EduMatch Podcast Network as a guest in 2019. Check it outhere:
---
Check out Dave's own podcast, Lasting Learning. A podcast about education, that isn't really about school. It's a show that discusses what school could be, what it should be, and the people trying to make it happen. Listen and subscribe here: https://anchor.fm/david-schmittou
Just click a title below and watch or read the full story
Making Learning Last a Lifetime
Using Twitter to recruit the best teachers in America
Teachers getting free school supplies